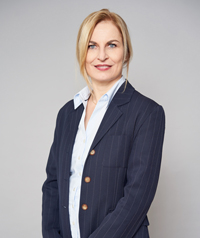 Everyone has everything they need to succeed, and no one needs to hide the talents they have within them. This fits the metaphor, that everyone is a toolbox, which contains every necessary tool to be able to carry out a job successfully.
The coach can help the trainees choose the right tool for their success, however they have to use it themselves. Coaching is supposed to assist the trainees in discovering his or her own desires, skills and resources as well as to use and promote the development of his or her own solutions.
Coaching approach of Doris Ehrmann
My approach is process-oriented. As a coach, I'm always sparring partner for the trainee, so that he or she can develop his or her own solutions. My Coaching has the purpose of helping the trainee to advance in his or her chosen direction.
Qualifications
Training as business coach (IHK)
Training as trainer in business (IHK)
Licensed by the ECA (European Coaching Association) as a business and management Coach at advanced level
Ongoing education in the field of training and coaching, including at the Schulz von Thun-Institut in Hamburg
Science university degree
Experience
Many years of experience in leadership and coaching of employees
Many years of experience in the sale of complex products
Coping with the challenge of combining a family and a demanding job